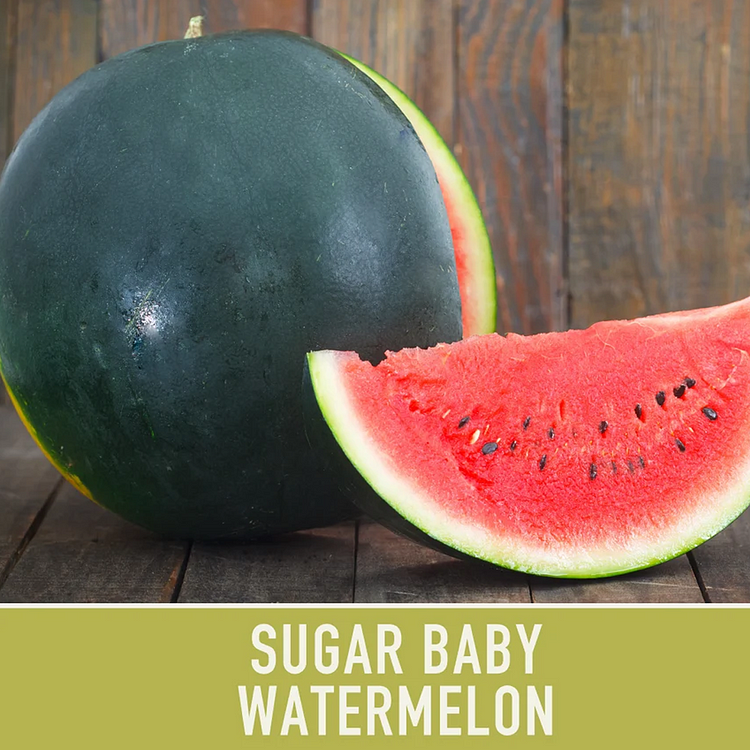 This small, round melon is called an icebox type because it is petite enough to fit in the refrigerator. This widely adapted heirloom variety is solid, dark green on the outside with a bright red, firm and fine-grained flesh that is super sweet. Watermelon contains high levels of healthy antioxidants, making Sugar Baby a great sweet way to pack in good nutrition. Vines are compact. Plant about 4 feet apart.
FAQ
01
When to Plant Sugar Baby Seeds
02
Where to Plant Watermelon Seeds
Watermelons are heavy feeders and need soil rich in nutrients. They grow best in loose, well-drained, but moisture-retentive soil rich in organic matter. Amend your soil with aged manure, seaweed, and/or compost before planting.
03
How to Plant Watermelon Seeds
Dig a hole 12" deep and 24" wide, fill with compost, manure, and several handfuls of sand. Use the soil that was removed from the hole to create the mound and then sow your seed or transplant there. Sow watermelon seeds 1" deep, planting 4-6 seeds (or transplanting 2-3 of your strongest seedlings) in mounds that stretch 24" across, If direct sowing, wait until seedlings have developed 3-4 true leaves and choose your strongest 2-3 plants by cutting the thinned out seedlings at soil level with scissors. Build mounds 5-10' apart.
04
How to Care for Watermelon Plants
Avoid growing watermelon where night temperatures dip below 50 F; this will cause fruit to lose flavor. If temperatures exceed 90F for several days, flowers will drop without setting fruit. Watermelons require 70-90 frost-free days to reach harvest and will tolerate no frost. A soaker hose or drip irrigation is the best way to water. If you live in an area where the weather and soil are dry, try planting your watermelon in inverted hills rather than mounds. Regular, even watering will help fruits avoid blossom-end rot which is caused by fluctuation of soil moisture. Companion plants are corn, radish, beans, nasturtiums, marigolds and oregano. Bad companions are potatoes as they attract many of the same insects that feed on watermelon plants.
05
How to Harvest Watermelons
Stop watering your watermelons about 10-14 days before the fruits are ready to harvest, this will concentrate the plant's sugars and your watermelon will be sweeter. You may want to place a board under each melon to keep the fruit clean and dry. Watermelons will be ready to harvest after 70-90 days from sowing. Other tips: