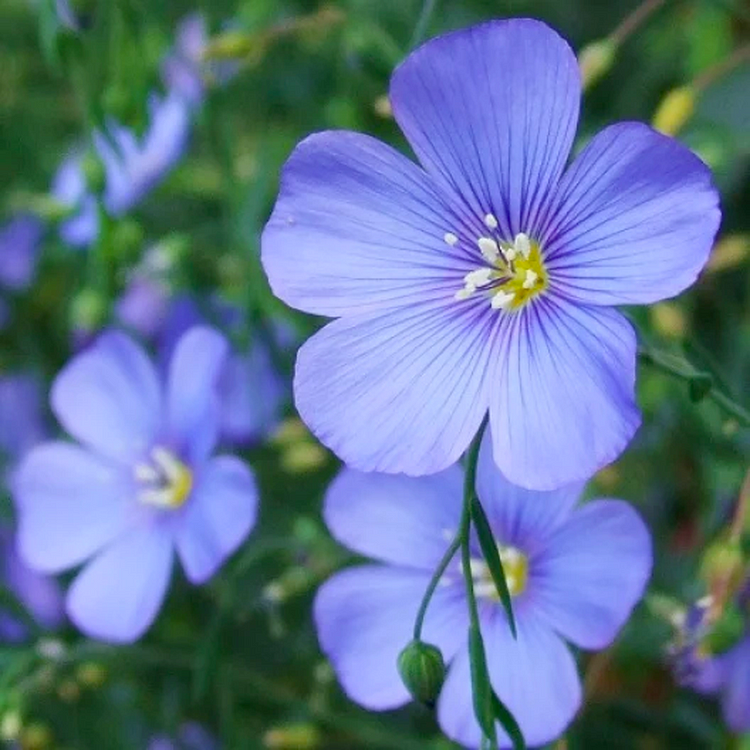 Planting Perennial Blue Flax Seeds
About Flax
Easy to grow from seed, flax thrives in diverse conditions and is a classic choice for Cottage Gardens, as well as common in meadows and along roadsides.
When to Plant Flax Seeds
Being a cool-season variety, plant flax seeds as soon as the soil becomes workable in spring. Seedlings with a minimum of two leaves can withstand late-season frosts. In temperate climates, early fall planting is also a viable choic.
Where to Plant Flax Seeds
Cultivate flax in full sun and nutrient-rich, well-draining soil. While flax can adapt to various soil types, it's advisable to improve the soil in your planting area with organic matter, compost, or manure if it's of poor quality. Flax may face challenges in clay or excessively wet soil.
How to Plant Flax Seeds
Flax seeds require light to germinate, so be careful not to cover them when planting. Learn more about germination light requirements here.
While not obligatory, Perennial Flax seeds can greatly benefit from a specific 4 to 8-week treatment known as cold stratification before planting.
Directly sow the seeds on the soil surface by broadcasting and gently press them down. Avoid covering the seeds, as they need sunlight for germination. After sowing the seeds, water them thoroughly.
How to Care for Flax
Once established, Flax is a low-maintenance plant. While it doesn't require staking, its stalks can be slender, so support from companion plants can be helpful. Collect seeds at the end of the season for future planting and clear away the growth once it dies back.