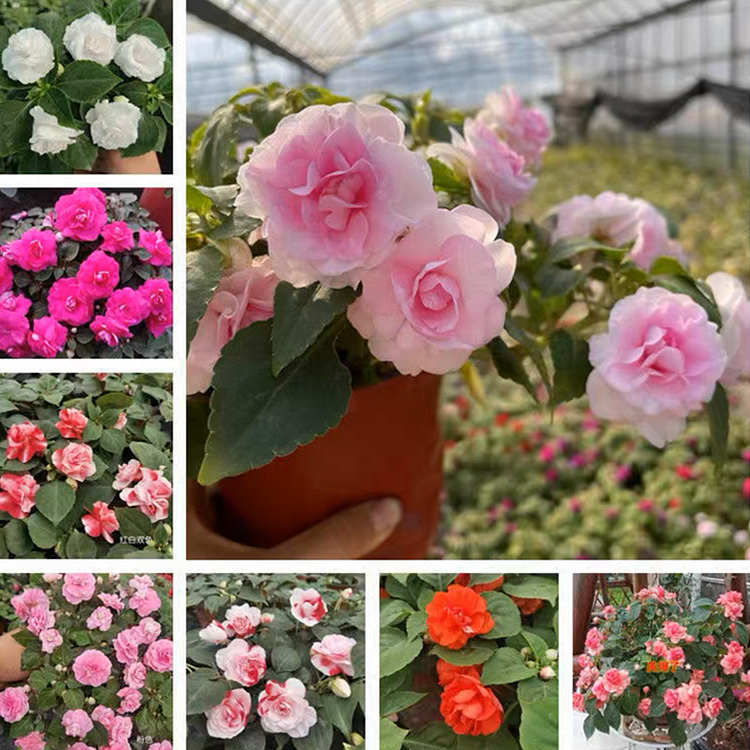 Big, luscious blossoms are a hallmark of this classic heirloom. Large, double blooms cover this bushy plant throughout the summer. Impatiens balsamina are easy to establish from seed and well known for reseeding year after year.
When to Plant Impatiens Seeds
Starting Impatiens from seeds will require a bit of tending and work to facilitate germination, so you'll need to start them indoors. As Impatiens are exceedingly slow growers, you'll want to start them indoors about 2-3 months fore the final frost in Spring.
Where to Plant Impatiens Seeds
When ready for transplant, Impatiens will thrive in Partial Shade conditions. However, while still germinating them indoors, they do best from bing in a bright, sunny location with lots of indirect sunlight.
How to Plant Impatiens Seeds
Impatiens seeds require light to germinate, so be careful not to cover them when planting. Learn more about germination light requirements here.
Light and warmth are the key ingredients to get Impatiens seeds to grow. When germinating Impatiens, the soil needs to be maintained at 75°F , otherwise the seeds may be susceptible to rotting within the soil. Start in individual pots or small tray cells with peat-light mix or sterilized soil mix - fill your cells/pots with the mix, then water with warm water before sowing your seeds. Once the cells/pots have drained, water with warm water once again, and then sow your seeds once the soil has cooled to being comfortable to the touch. Sow the seed onto the surface of the soil and compress, but do not cover. Place flats/pots on bottom heat that will provide a consistent 75° F temperature and in an area that gets full sunlight. Watering from the bottom during germination is recommended - germination will usually take 14-21 days. Once outdoor soil temperatures are consistently at 50°F, and the threat of frost has passed, the impatiens can be transplanted outdoors.
How to Care for Impatiens
Impatiens prefer rich, well-draining soil that remains moist, but not wet. Water regularly, and add a general purpose fertilizer monthly as needed.