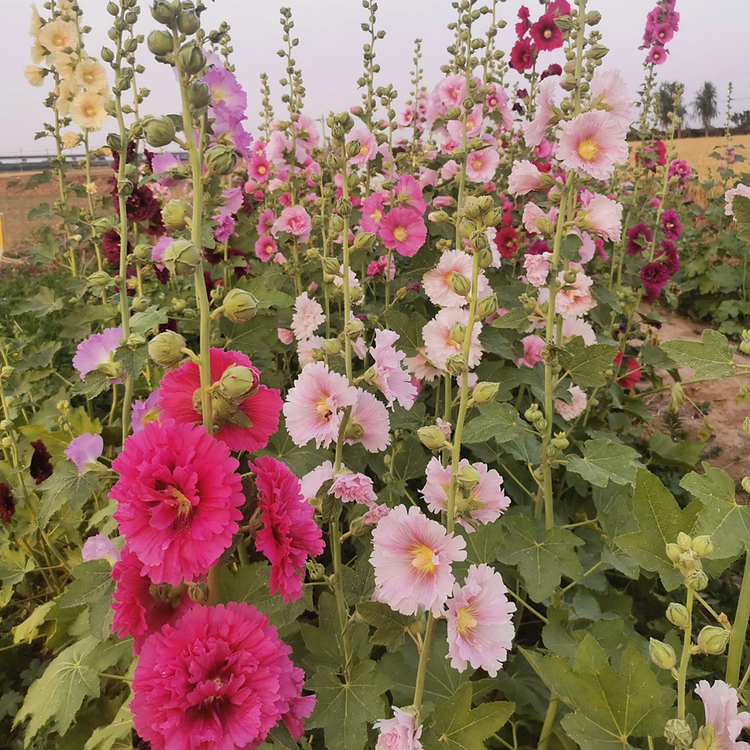 FEATURED
A garden classic, popularly found in English and cottage-style landscapes, Hollyhock Single Mix features a lovely range of pinks and reds blooming summer into fall.
Planting Hollyhock Seeds - Single Mix
When to Plant Hollyhock Seeds
Direct Sow approximately one week before the threat of frost has passed. Hollyhocks can also be sown indoors approximately 9 weeks before your final frost and transferred outdoors about 2-3 weeks after the final frost has passed.
Where to Plant Hollyhock Seeds
Plant hollyhocks, in moist, rich, and well-draining soil that gets full sun exposure - though they can tolerate Partial Shade. One of the significant causes of hollyhock failure is planting in soil that is too dry.
How to Plant Hollyhock Seeds
Hollyhock seeds require light to germinate, so be careful not to cover them when planting.
Hollyhocks may benefit from a 12 hour soak in warm water, but it is not needed. Direct sow outdoors onto the surface of the soil and compress firmly, but do not cover. Hollyhocks require sunlight to germinate. If starting indoors, use tall, individual pots to transplant, as Hollyhocks have long taproots.
How to Care for Hollyhock
Hollyhocks are a short-lived perennial, tending to last about 2-3 years. This lifespan can be extended by removing flowers as soon as they fade. In non-tropical climates, you can cut your hollyhocks down and mulch in order to give them longer life as well. Hollyhocks can also be susceptible to rust, which will usually infect lower-growing leaves, but can spread upwards. Prevent rust by watering from below, and promoting good air circulation between your hollyhocks.