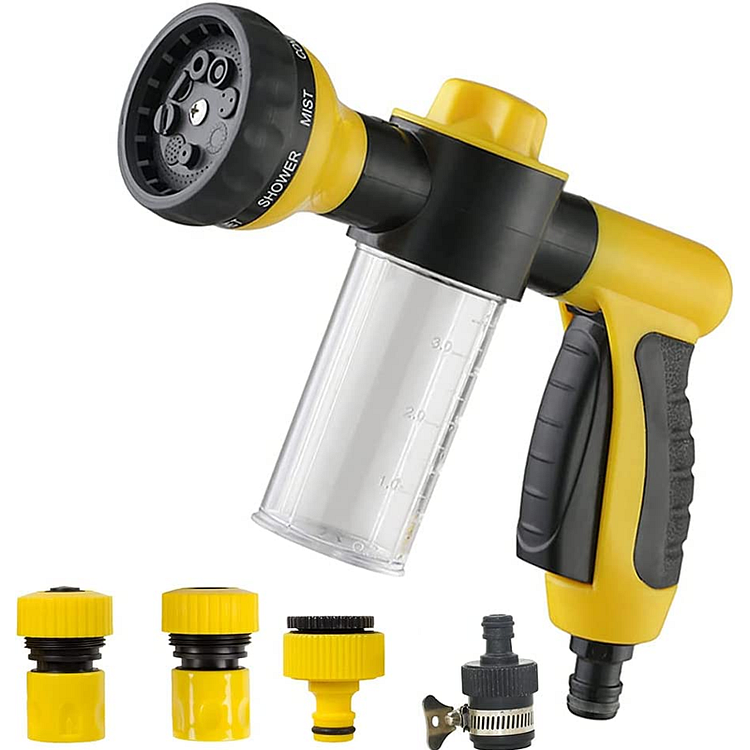 【Simple Comfortable Operation】The foam sprayer feels comfortable and adopts ergonomic design to reduce user fatigue. You need to press the trigger to open/close the nozzle. The operation is simple, no need to press all the time to automatically trigger.

【Multifunctional】The water sprayer is equipped with a foam storage device, which can hold 100 ml of liquid. There are 8 types of nozzles (conical spray, coarse spray, oblique angle spray, fan spray, multi-point spray, fine column spray etc), which can be used for different purposes. For example: watering plants and lawns, watering terraces, car washes, pet showers, etc.

【Adjustable water flow】There is an adjustable knob on the top of the sprinkler. You can control the flow of water and foam by tightening or loosening the knob to meet your various needs.

【Simple connection】The Sprayer can be easily connected with a 1/2-inch garden hose and a 1/2-inch or 3/4-inch faucet. Various hose adapters can be quickly connected to water pipes and faucets and used. The equipped rubber gasket can better prevent leakage.

【High-quality materials】The sprinkler is made of ABS plastic and rubber, with a rubber coating, which is very durable.