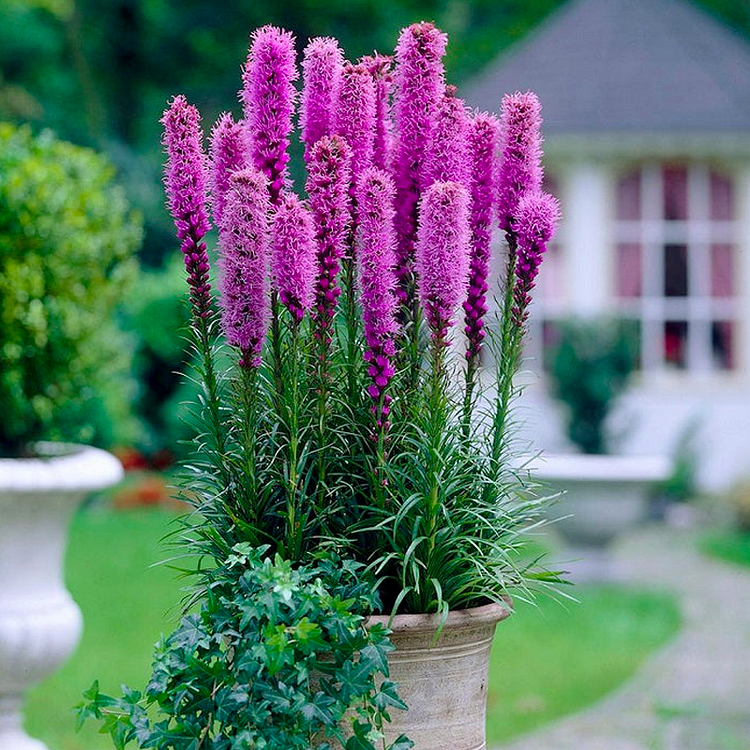 Common in floral design, Blazing Star Liatris is an attractive perennial shrub. It's loved by bees and butterflies and has a long blooming season with tall spikes of tiny purple florets.
When to Plant Gayfeather Seeds
Plant Gayfeather seeds directly outdoors in the fall after the first frost. In regions with mild winters, you can sow seeds outdoors after a 12-week cold stratification, once outdoor soil temperatures consistently reach 65°F
Where to Plant Gayfeather Seeds
Gayfeather thrives in full sun conditions but can tolerate some light shade. However, partial shade is not ideal for Gayfeather. It grows best in well-draining soil with low to average fertility. Avoid overly wet conditions as they can lead to root rot.
How to Plant Gayfeather Seeds
Gayfeather seeds require light to germinate, so be careful not to cover them when planting.
Sow seeds onto the surface of the soil, and compress firmly. Do not cover your Gayfeather seeds, as they'll require sunlight to germinate.
How to Care for Gayfeather
Once seedlings reach 2-3 inches in height, thin or transplant them, leaving 8-12 inches of space between plants. Established Gayfeather is drought-tolerant, requiring manual watering only during extended drought periods. After the plants emerge, you can apply mulch to reduce maintenance needs. Over time, Gayfeather may become overcrowded. To address this, dig up the tuber roots, separate them, and replant as needed.