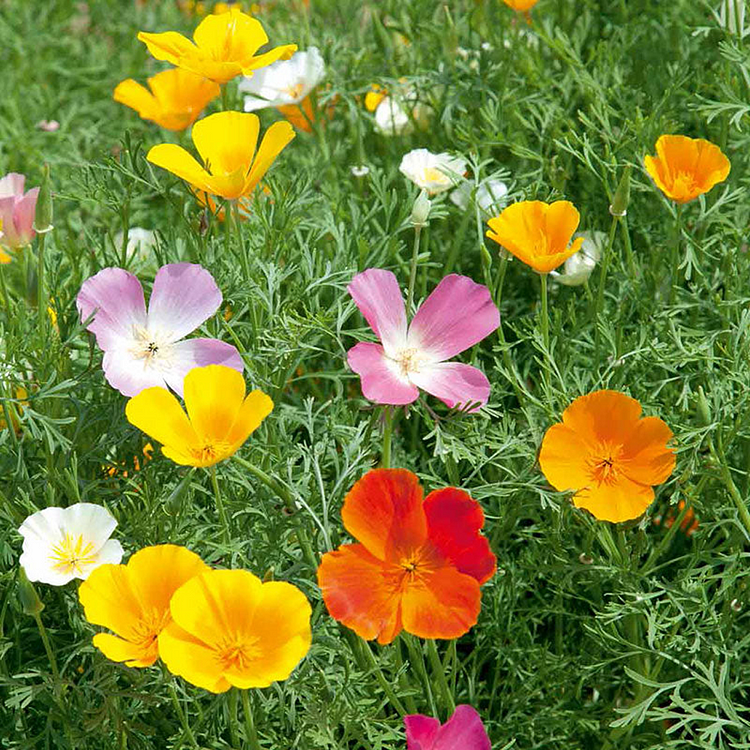 FEATURED
California Poppy Mixed Colors is the top choice for wild poppy gardeners seeking variety. It showcases a vibrant mix of California Poppy hues, including red, orange, yellow, white, and pink. It's a perennial in warm climates and reliably self-seeds in colder areas.
About California Poppies
The California Poppy is a prolific bloomer, extremely drought-tolerant, and thrives in almost any environment, including arid and challenging conditions. They're effortless to cultivate and demand minimal care.
When to Plant California Poppy Seeds
We highly recommend sowing seeds directly in the garden at the last spring frost date, but if necessary to start your seeds indoors, do so 2-3 weeks prior to the last frost. California Poppies do not like their roots disturbed and therefore should not be transplanted.
Where to Plant California Poppy Seeds
We strongly advise sowing the seeds directly in your garden on the final spring frost date. However, if you need to start them indoors, do so 2-3 weeks before the last frost. California Poppies are not fond of root disturbance, so avoid transplanting them.
How to Plant California Poppy Seeds
Poppy seeds require a special 2 week treatment called cold stratification prior to planting them. Learn how to cold stratify your seed here.
Poppyseeds require light to germinate, so be careful not to cover them when planting.
California Poppies thrive in cool to moderate temperatures and are frost-resistant. They bloom best in cooler spring conditions, with reduced flowering in hot summer weather. To improve drainage, add 2 inches of compost to your soil. Plant the seeds shallowly, covering them with just a 1/16-inch layer of soil, spaced 6-8" apart.
How to Care for California Poppies
Seedlings typically emerge within 14-21 days. Thin them to approximately 8 inches apart. While poppies benefit from regular watering, they can withstand dry conditions. Fertilizing is not necessary. Poppies usually take 60 to 90 days to bloom after planting, depending on your growing zone and timing, as well as weather conditions. Poppy blooming season spans from spring to summer, lasting for a few weeks. You can prolong the bloom by regularly watering, using mulch for moisture retention, and deadheading spent flowers. For an extended bloom season, consider sowing seeds in successive plantings.