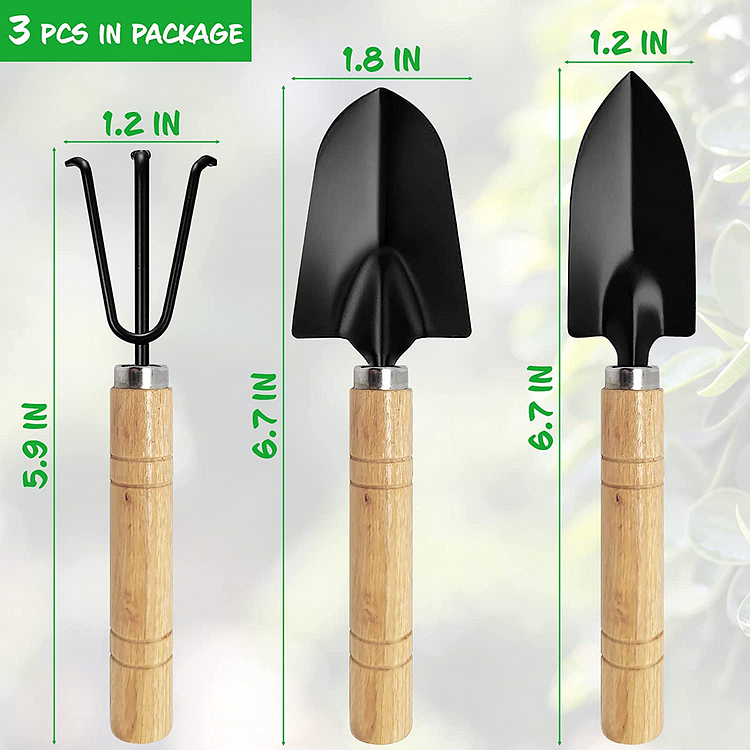 Quality Materials: These small shovels for gardening are constructed from premium quality solid wood and iron for the flat-end of shovels and trowels. These are small garden shovel rake and trowel are sturdy, durable for years and well polished, rust proof and not easy to bend.

Package of Small Garden Tools: In the pack you get 3 pieces of small gardening tools including a shovel, trowel and rake garden kit which are perfect tool set is various gardening needs digging, weeding, transplanting. This garden shovel set is perfect for home gardening needs

Size of Hand Garden Tools: These gardening hand tools are perfect home gardening as these are compact in smart in use, hand trowel garden tool is 6.7 x 1.18 inches and spade hand rake garden tool is 5.9 x 1.18 inches and gardening shovel is about 6.7 x 1.8 inches.

Ergonomic Wood Handle: These gardening spades, shovels & trowels have ergonomic wood handle which is comfortable and suitable for long time heavy duty gardening work. The wood handles are hard and strong with beautiful grain look elegant also reduce hand pain and fatigue.

Wide Application of Garden Tool Kit: These garden rakes metal heavy duty are perfect for all kinds of gardening tasks. garden trowels are suitable for transplanting smaller plants or flowers without damaging the root. Gardening rake is suitable for loosening soil, removing weeds and aerating soil.