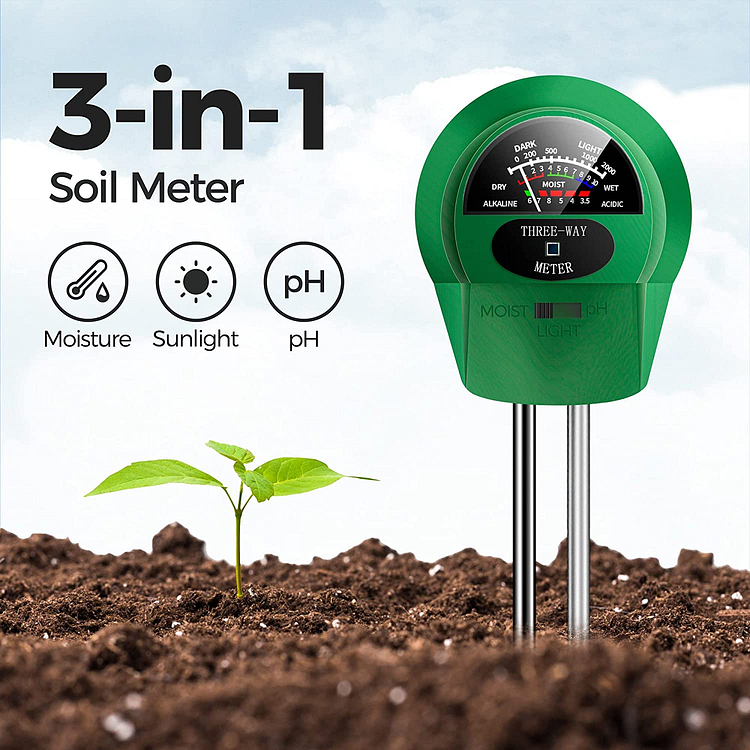 🌱【3-in-1 Soil Tester】The plant moisture meter can test soil moisture, pH value and sunlight level respectively, helping you grow plants more scientifically.

🌻【Easy Operation, Quick Measurement】1. Just insert the sensor probe gently and slowly into the soil about 2-4 inches. 2. Switch function keys to Moisture, Sunlight, or pH. 3. Read measured levels of the soil. (Note: No test result in liquid or water.)

🌵【User Friendly, Battery-Free】Simple and clear color division, the elderly can be also easily used. No battery design, more suitable for you who love green environmental protection.

🌳【Testing Range】Plant Moisture Meter Range: 1-10 (1-3 Dry, 4-7 Normal, 8-10 Wet). Soil pH Tester Range: 3.5-8 PH(3.5-6.5 Acidic, 7-8 Alkaline). Light Meter for Plants Range: 0-2000 lux (0-200 Low, 200-500 Low+, 500-1000 Normal, 1000-2000 High).

🍂【Warm Tips】1.The plant thermometer is specially designed for soil, please do not use it to test the water or other liquids. 2. Rock or other too-hard soil may cause probe damage. 3. Our plant water meter for indoor potted plants is not suitable for sandy, and other fluffy soil.4. After use, please take out the moisture meter and wipe the probe. Do not leave it in the soil for a long time. 5. If you have any questions during use, please feel free to contact us, we will be honored to serve you.
3-in-1 Design
This 3-in-1 soil moisture meter is designed to better know the condition of your plant, detect soil moisture, help you know the pH value of the soil, determine if plants get enough sunlight to keep plants grow healthier !
Measure Soil Moisture

Help you specialize in grasping when you need to water your plant(1-3 Dry, 4-7 Normal, 8-10 Wet)

Measure Sunlight Level

Know about whether it gets adequate sunlight(0-200 Low, 200-500 Low+, 500-1000 Normal, 1000-2000 High)

Measure the pH of the Soil

Help you to control the pH value in the soil(3.5-6.5 Acidic, 7-8 Alkaline)
Tips:
1.Do not use it to test very hard soil.

2.Do not leave it in the soil for long periods of time.

3.Never use it to test water or other liquid. Designed for testing soil only.

4.After use, please wipe clean the soil moisture probe.
Watering Guide Notes:
The ranges listed in the plant watering guide indicate that if the meter reads above the listed range, it is too early to water your plants.

If the meter reads the same or lower than the listed range, the plant needs watering.

Watering plants scientifically and rationally to make plants grow better.